Breville is a household name in the juicing industry. Aside from producing the best centrifugal juicers in the market, they also sell every possible appliance you'll ever need in your kitchen. They are one of a few billion-dollar companies fighting for a spot in your counter space.
High-speed juicing machines are the core products of Breville's juice extractor division. So, this roundup will be all about centrifugal juice makers. Let's find out which products deserve to be in the best Breville juicers list.
The main advantage of centrifugal juicing machines is speed. Fast juicers can process a whole apple in a few seconds and produce a glassful of nutrient-rich juice in under 5 seconds.
If you're a busy person with no time to spare on cutting fruits and veggies, then one of these Breville products can be your perfect juicing companion.
Top 5 Breville Juicers
Breville Juicer Reviews
#1 Juice Fountain Cold – The Best Breville Juicer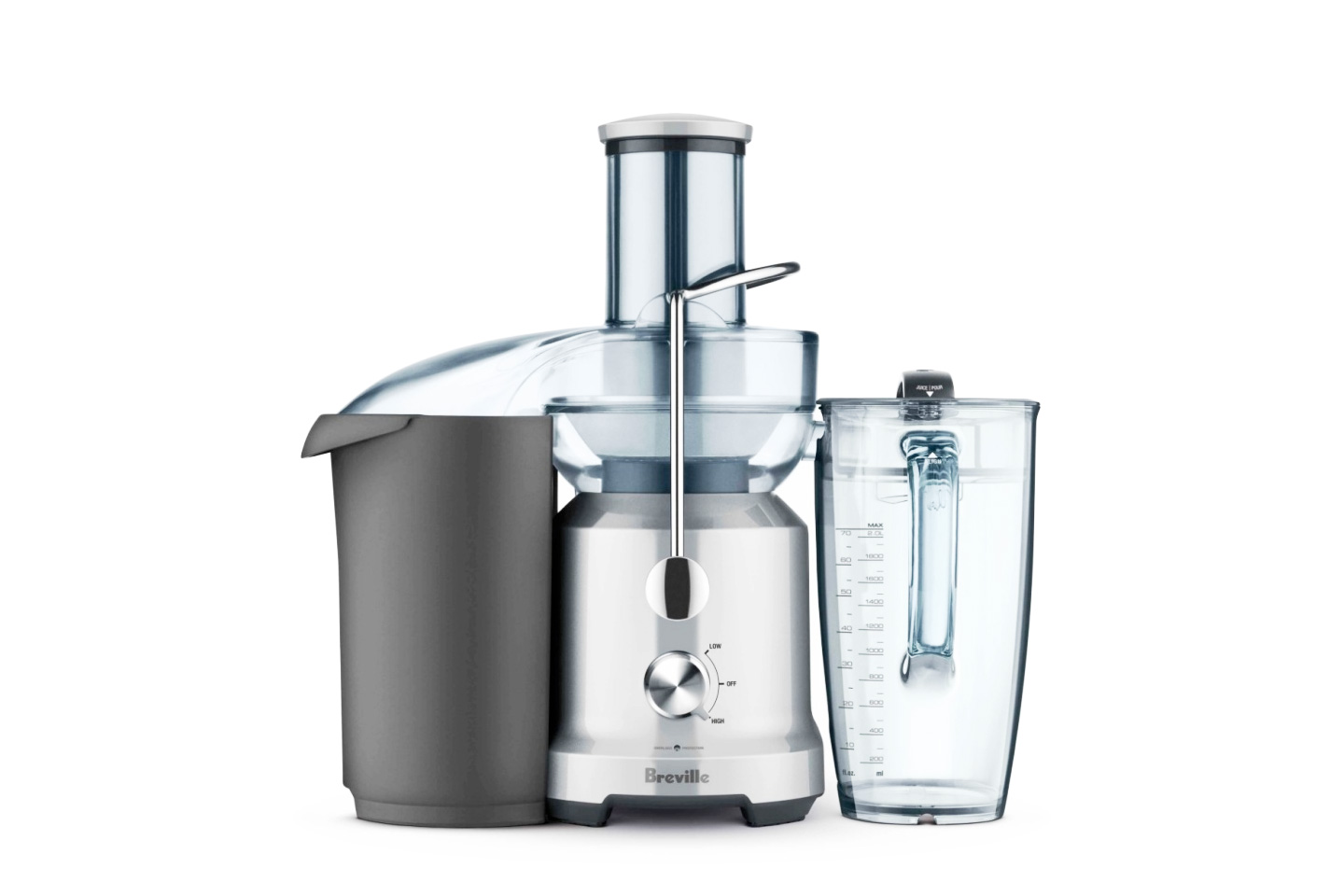 One major disadvantage of centrifugal juicers is the short life span of the juice it produces. This issue paved the way for Juice Fountain Cold. The company claims that the feature behind this new product, dubbed as the cold spin technology, was able to increase the shelf life of the juice to 72 hours.
That's a significant bump in the life span of the juice, putting it head to head with slow juicers. With the Juice Fountain Cold, you'll get the benefit of a fast juice extractor and as well as the long shelf life of slow rpm juicing machines. In short, you're getting the best of both worlds.
You can read the full review of the Breville Juice Fountain Cold here.
#2 Breville Juice Fountain Plus
The Juice Fountain Plus or the Breville BJE98XL is the former flagship product of the company. In the height of the juicing trend, it was the most popular juicer with a starring role at Joe Cross' Fat, Sick, and Nearly Dead.
Today, its legacy still lives on and remains a highly recommended product. It's one of the cheapest Breville juicers next to Juice Fountain Compact. Perfect for beginners and juicing veterans alike who want the best bang for their buck.
You can read the full review of Juice Fountain Plus here.
#3 Breville Juice Fountain Compact
I don't really recommend the Juice Fountain Compact, but it still deserves a spot in this all-Breville roundup, being the cheapest machine you can get your hands on. It's affordable, but it comes with a nuisance that will make your juicing experience a tad challenging.
Juice Fountain Compact is the only Breville juice extractor without an external pulp ejection system. A filter paper collects the pulp from inside the juicing chamber. Once it's full, you'll have to take the filter paper out and replace it with a new one.
It's an excellent personal juicer, but it won't work if you're processing a large amount of fruits and vegetables.
You can read the full review of Breville Juice Fountain Compact here.
#4 Breville Juice Fountain Duo
The Juice Fountain Duo is a premium commercial-grade centrifugal juicer. With a 5-speed setting, it can take on any type of fruits and vegetables. On top of that, it can also process berries and other soft fruits with the help of a secondary purée disk.
For the record, puréeing soft produce is impossible with conventional centrifugal juice makers. I would generally advise you against putting bananas, berries, or avocadoes in your juicer. It's a big no-no; I even call these fruits and veggies non-juicable items. I guess we can put this machine as an exception to that rule.
To wrap it up, the Juice Fountain Duo is not just a dependable juice extractor but also an amazing purée machine.
You can read the full review of Breville Juice Fountain Duo here.
#5 Breville Juice Fountain Elite
If you want the same commercial-grade quality without paying a premium price, the Juice Fountain Elite would be a perfect choice. With a brushed stainless steel finish, it's an elegant addition to your food processing arsenal.
Since it's made out of BPA free materials, your juice will remain fresh and pure, free from chemical contaminants. You won't get extra features with this machine, but it serves its purpose well. As far as juicing is concerned, its dual speed setting is more than enough to process all juicer-friendly fruits and veggies.
You can read the full review of Breville Juice Fountain Elite here.
So there you have it, the best Breville juicers.
Over To You
The quick loss of nutrients and the inefficiency of juicing leafy greens are the major criticisms of centrifugal juicers. Juice Fountain Cold was launched to address the former issue. After that, Breville doubled down on their cold spin technology and released to two more models, The Juice Fountain Cold Plus, and the Juice Fountain Cold XL.
Centrifugal juicers may have a few disadvantages, but they are fast, affordable, and easy to use. Those are its ultimate selling points. It's a functional product that doesn't require a significant amount of investment.
If you're ready to take the plunge, let me leave you with the best Breville juicer—The Juice Fountain Cold.