When shopping for the best centrifugal juicer around, don't limit yourself to popular brands. There are great capable machines out there that will cost you half as much.
But before anything else, let's discuss what a centrifugal juicer is, and why is it the best juicer for fruits and vegetables.
If you're not new to juicing, feel free to skip this part and go straight to the top ten centrifugal juicers list.
What is a Centrifugal Juicer?
Centrifugal juicers are also called high-speed or fast juicers. It can turn fruits and veggies into a glassful of goodness in under five seconds. At 10,000 RPM on average, it grinds the produce and forces the juice out of the pulp through centrifugal force, hence the term centrifugal juicer.
Why is it the Best Juicer for Fruits and Vegetables?
A centrifugal juicer can take on any mix of fruits and vegetables in a short amount of time. With a feeding chute that can go as wide as 3.5 inches, precutting is almost optional. It can process a whole apple, whole carrots, celeries, etc., or any produce that can fit in its enormous mouth.
That's the beauty of high-speed juice extractors, and that is why the best juicer for fruits and vegetables. It's the perfect machine for making basic juice recipes, ideal for beginners and for those who are always on the go.
Top 10 Centrifugal Juicers of 2019
Centrifugal Juicer Reviews
#1 Breville Juice Fountain Plus – The Best Centrifugal Juicer
If you were there during the peak of the juicing trend, Breville Juice Fountain Plus was the most popular choice among consumers. Aside from being featured in the Fat, Sick and Nearly Dead documentary, Juice Fountain Plus' rise to fame was also brought about by its perfect mix of affordability and functionality.
It's not the cheapest in Breville's line-up of centrifugal juicers, but it has a lot more to offer in comparison to the Juice Fountain Compact. It comes with a bigger spout, a dual-speed setting, an optional puree disk for processing soft mushy fruits, and a hassle-free pulp ejection system.
Those features, along with being on the affordable end, made it the best centrifugal juicer of the year. It also earned the title: Best juicer for Fruits and Vegetables, since it can take more varieties of produce than other high-speed juice extractors.
You can read the full review of Breville Juice Fountain Plus here.
#2 Mueller Austria Ultra – Budget Pick
Centrifugal juicers are already cheap. However, if you don't feel like spending more than a hundred bucks on a new juicer, you might fancy Mueller Austria Ultra. The thing about cheap products on Amazon is its pricing is unpredictable. You might want to take advantage of its lowest offer while you still can.
Mueller Austria Juicer Ultra is inferior to Breville Juice Fountain Plus but it gets the job done for the fraction of the price. It may have a smaller feeding chute but it can also take wide varieties of fruits and vegetables. It can juice dense produce, citrus fruits and you can also throw leafy greens into the mix. It just won't puree soft fruits despite having a low-speed setting.
These flaws were nothing when you start to think about how inexpensive it is.
You can read the full review of Mueller Austria Ultra here.
#3 Breville Juice Fountain Duo – Premium Pick
The Juice Fountain Duo is the pride and joy of Breville's centrifugal juicer department. It has everything that I'm looking for in a perfect centrifugal juicer—BPA free parts, die-cast metal body, commercial-grade performance, variable-speed settings, and a complimentary puree disk.
If not for its shocking price tag, it could have earned the first spot.
You see, this premium product is not just built for juicing, it also doubles as a smoothie maker or shall we say a puree machine. It was an optional feature in the Juice Fountain Plus, but it comes standard in the Juice Fountain Duo. With that accessory, your juice recipes will be limitless.
You can read the full review of the Breville Juice Fountain Duo here.
#4 Cuisinart CJE-1000
Mueller Austria Ultra is our budget pick, but Cuisinart-CJE 1000 still holds the best value juicer award. It's packed with features beyond its price point with unparalleled warranty coverage. It's one of those brands confident enough to offer a 3-year product guarantee.
Like our premium pick, it also has a five-speed setting. You can use the lower speed option for softer fruits and vegetables and adjust to a higher speed for denser produce like carrots, beets, and celery. To top it off, it's also BPA free and dishwasher safe. You'll definitely get the best bang for your buck out of Cuisinart CJE-1000.
You can read the full review of Cuisinart CJE-1000 here.
#5 Breville Juice Fountain Cold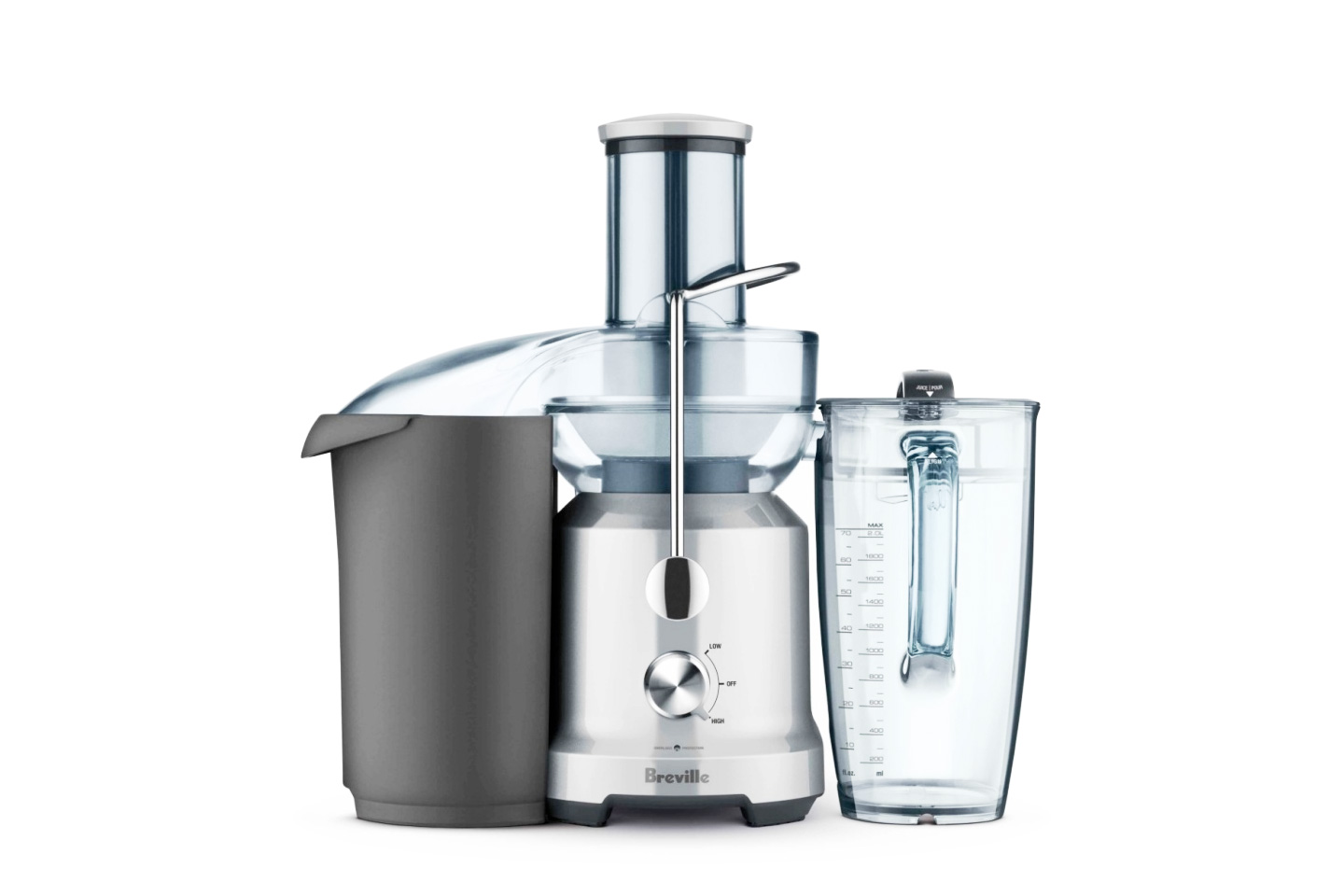 The Juice Fountain Cold is the company's latest jab at slow juicers. Breville claims that juice produced by this product has a shelf life of 72 hours putting it on par with cold press juicers. Sadly, their source was self-funded, and I haven't seen any independent source to back their claim.
Still, this product looks promising and looks better than Juice Fountain Plus. If it's time to upgrade your good old centrifugal juicer, the Juice Fountain Cold is a great option. You just need to follow a step by step instruction in order to keep your juice fresh and nutrient-rich for up to three days. It's not that difficult.
You can read the full review of Breville Juice Fountain Cold here.
#6 Bella (13694) High Power Juice Extractor
Bella High Power Juice Extractor is the doppelganger of Mueller Austria Ultra Juicer, our budget pick. There is basically no difference between the two except for a few cosmetic touches—the logo, switch, locking bar, and the spout details. This is because they both based on the Aicok GS-332 framework. Yes, they are white-labeled products.
There is nothing wrong with it, in fact, it's beneficial for consumers. That gives us more cheap options to choose from.
In terms of performance, Bella High Power Juice Extractor can take on dense produce, citruses and leafy greens (to some extent). It's not the best machine, but the price is probably the best reason for anyone to buy it.
You can read the full review of Bella High Power Juicer here.
#7 Hamilton Beach Premium Big Mouth
What I like about a Hamilton Beach Premium Big Mouth is they are sold by a US-based entity. Hamilton Beach is an established brand selling inexpensive kitchen equipment. You'll get the peace of mind when you buy from the likes of this company.
Premium Big Mouth is equivalent to Breville Juice Fountain Plus, beyond the fact that it's significantly cheaper. It's not as popular, but you'll get the same functionality. It can prepare any juice recipes involving leafy greens, citruses, and denser produce.
The best part about Hamilton Beach juicers is it's backed by a 3-year warranty. That's the longest coverage for a centrifugal juicer.
You can read the full review of Hamilton Beach Premium Big Mouth here.
#8 Breville Juice Fountain Elite
The Juice Fountain Elite reminds me of the Super Angel Juicer. As far as I know, it's the only juicing machine with an all-metal housing (next to Juice Fountain Duo). I can count all the plastic parts with my fingers, and there are just four of them—the top set, food pusher, the pulp bin, and the juice jug. To top it off these polycarbonate components are BPA free.
It's not that affordable, but it's also not the most expensive in Breville's line-up of high-speed juice extractors. Unlike the Juice Fountain Duo, it only has a dual-speed setting and doesn't have a puree disk. Processing soft fruits is a big no-no for this model.
Despite being limited to common types of produce, it's still a good choice for consumers who are looking for a quality centrifugal juicer.
You can read the full review of Juice Fountain Elite here.
#9 Aicok GS-332
Aicok GS-332 is such an elusive product, it's difficult to find it on sale. The company behind it is probably more focused on white-labeling its product than selling directly to consumers. Mueller Juicer was such a big hit, it's outselling the original product by a wide margin.
If you'll look closely, the Aicok GS-332 is more refined with respect to its design. But, you'll get the same functionality as its white-labeled siblings—a 1000 watt motor, dual speed setting, 2.9-inch feeding chute, and the ability to juice dense produce and citruses.
You might find this original model a little expensive so it would be wise to check all three juicers and pick the cheapest.
You can read the full review of Aicok GS-332 here.
#10 Hamilton Beach Big Mouth Pro
Like the Premium Big Mouth, Hamilton Beach Big Mouth Pro has extensive warranty coverage, and as a bonus, it's even cheaper. It doesn't have a fancy speed dial nor a powerful motor, but it still works exactly as its premium sibling. You can juice dense produce, leafy greens and citruses with the Big Mouth Pro.
I have to mention though that this machine has a one-speed setting. This is a very basic juicer just like the Juice Fountain Compact. IMHO, Hamilton Big Mouth Pro is a better option. While it only has a static RPM, it does offer an external pulp ejection for a hassle-free juicing.
You can read the full review of Big Mouth Pro here.
What To Consider When Buying a Centrifugal Juicer?
Price
Centrifugal juice extractors are the cheapest machine you can get if you're new to the world of juicing. You can get a decent one for under 200 dollars or less. That is if you'll skip stainless steel models. Just take a look at our budget pick, It doesn't cost much, but it gets the job done.
Variable Juicing Speed
Centrifugal juicing machine with variable juicing speed can process a wider variety of produce. Pick one with at least two-speed setting, this will give you the ability to extract juice from softer to denser produce and leafy greens. Getting a 5-speed-setting is more of a bonus. It will provide you with more fine-grained control over different types of fruits and vegetables.
Pulp Ejection
Juicers without external pulp ejection are cumbersome to operate, you'll need to constantly stop to empty the pulp collector, and replace the filter. It defeats the purpose of being a high-speed juicer. Stay away from the Juice Fountain Compact, Acme Juicerator, Waring PJE401 or any old school centrifugal juicer.
Chute Size
The biggest chute in the market belongs to Juice Fountain Cold XL. It has a 3.5-inch wide funnel which can take any whole produce that will fit in that profile. You don't have to get something that big. At least get something that a whole apple will fit into. If the price is not an issue, aim for a 3.3-inch diameter.
Durability / Warranty
Most of the centrifugal juice makers, even known brands have a short warranty period. A 1-year warranty is the industry standard, and that's what you should be sticking to. You're lucky if you'll get your hands on a fast juicer with a 2-year product guarantee.
To be honest, there is no point of getting a durable machine if your product is just protected for a year. Sadly, this is where high-speed juicers fall short.
Maintenance and Usability
There are just two things to considering to make your life easier while operating centrifugal juicers. Get something with external pulp ejection (as I mentioned above), and look for a dishwasher safe product.
Over To You
Fast and affordable are the perfect adjectives to describe centrifugal juice extractors. It's the best juicer for fruits and vegetables if you're just into basic juice recipes.
It doesn't come without any cons, though. The biggest concerns are oxidation and efficiency of juicing leafy greens.
You may already know that juice extracted by centrifugal machines only have a shelf life of 24 hours. There are models out there which advertise a 72-hour shelf life but there haven't been any independent tests to prove that claim. Clearly, it has a lot of catching up to do with the slow juicer market.
Despite those limitations, it's still good enough for making simple nutrient-rich juices. If you prefer to drink a freshly pressed juice straight from the juicer rather than storing and consuming later, then go ahead and check out the best centrifugal juicer—Breville Juice Fountain Plus.